Testimonials
---
Benoit St-Amand and Kathy Murray
I have known Alain for many years and I strongly recommend Alain for the purchase of your next retriever!! By his good choices in Sires Alain has shown that he aims to produce excellence in retriever puppies. Being at the right place at the right time enabled me to purchase a puppy, Boone, from him in May 2010. He is from a litter between Cruise and Boogie Dancer.
I knew that Cruise had an excellent pedigree and a great temperament. She already had tittles to prove her superior genes and she also had the attitude I was looking for. At the time, Boogie Dancer was a handsome and promising young male. He had an excellent pedigree and was already showing great qualities both during hunt tests or retrieving an enormous number of birds during hunting season.
I have been involved in hunt tests has a handler and judge for 22 years now. I have owned and/or trained many good retrievers throughout the years. I can honestly say that Boone is one of the best I have ever trained. During the 2012 season he learned and assimilated complex training concepts in 4 months. He passed 4 senior tests in 4 in 2 weekends. Then earned 5 Master ribbons in 7 tries to earn his Master Hunter title before the age of 2 and a half. What a waste of talent it would have been to let him on the couch!!
In addition to being a handsome, tall and muscular dog, Boone has all the qualities we look for in a retriever. He is an excellent companion at home, he is calm and relaxed. In the field, he is a driven and untiring retriever but always under control. He is bright, a great marker and has impeccable manners in the blind. He only wants to please his masters and… retrieve!!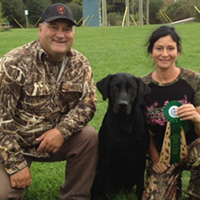 Jeff Morari President, Saskatoon Retriever Club
Alain Jette breeds top notch retrievers - period. A few years back I watched a young female work at the Canadian National Master Hunt Test and was impressed with every aspect of her work. When it came time to acquire a new pup, I discovered that Alain owns the sister to the dog I had seen. Many e-mails and conversations later, I resolved to purchase a pup out of Cruise. Alain had selected a top rate stud, FC AFC Land Ahoy call name Pirate. Since I reside in Saskatchewan, purchasing a pup out of Quebec was a small leap in faith. Dealing with Alain put my apprehensions to rest, as I discovered we share the same expectations from our retrievers. Alain values drive, intelligence, natural marking ability, and trainability. It also helped that we both like the classic square headed lab features. My pup Roy has all of this.
I train my dogs to be working field dogs for both waterfowl and upland hunting. I also play the hunt test game and dabble a bit in field trialing. Roy passed his first Junior Hunt test at age six months and two days. He is well on his way to running successfully in Master Hunt events at the age of two. Roy has demonstrated great focus while hunting, showing steadiness, strong marking, and an excellent nose. Roy is proving to be a very good house dog as well, a factor most important to the rest of the family.
I would highly recommend AJTOP Retrievers for anyone seeking a well rounded dog with excellent breeding. If you are looking for great working companion in the hunting or trialing field, Alain will provide you with a pup that has plenty of "gas in the tank".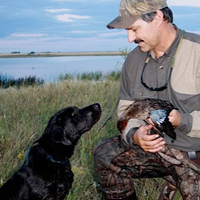 Bruce Kelly
I got my first good look at Cruise while judging the 2009 Canadian National Master Hunt Test. I was immediately impressed and at that time started negotiations for a pup. When Cruise was bread to Pirate that just sweetened the deal.
I am extremely happy with Charlie. Lot's of drive, great marker, and very trainable. Passed all health tests with flying colours, hips. heart. eyes; and of course, is EIC and CNM clear.
I would rate Alain and AJTOP RETRIEVERS as one of the top breeders in North America in terms of quality, openness and fitness guarantees.
I am satisfied with Chralie's progress to date. He has achieved a WCX. JH, and a few legs on his Senior Hunter. He also has a few CM's in Junior field Trials. All with limited competition. This season I plan to finish Senior, start Master as well as run him in Field Trials.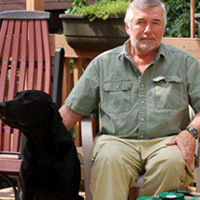 Yvan Morissette
MON RÊVE
J'ai toujours aimé les chiens et ce depuis mon enfance.  Colleys, Berger allemand, chiens de races mélangées m'ont apporté au retour de l'école, réconfort, sécurité et affection.
En ce temps, mes exigences étaient très simples.  En un seul mot ''viens'' et mon compagnon de jeu disait toujours oui à de simples ballades au champ où en forêt.
Depuis les exigences ont beaucoup changé. Si j'avais un chien, je voudrais un chien d'intérieur, il devrait être doux, affectueux, calme, obéissant et bon gardien.
Si j'avais un chien, je voudrais un bon chien de chasse et qu'il soit concentré, efficace, travaillant, adaptable et constant.
Si j'avais un chien, j'aimerais faire de la compétition de ''chien rapporteur'' et à un haut niveau.  En fin de compte,  un chien capable de tout. Il devrait être intelligent, saisir les apprentissages complexes, retenir les concepts, être bon marqueur, rapide, vouloir travailler avec et pour son maître, et capable de répondre à n'importe laquelle des épreuves de chasses de haut niveau.
Un beau rêve n'est-ce pas?
Mon rêve s'appelle AJTOP Prunelle et elle atteint les sommets avec brio et à l'aube d'acquérir son titre Grand Maître Chasseur.
Prunelle à la chance d'avoir comme géniteurs de grands chiens soient : Cruise de Alain Jetté et Boogie de Réjean Tremblay, deux chiens du Québec d'une réputation sans égale.
Moi, j'ai la chance de rêver les yeux ouverts et d'en profiter à tous les jours :  dans la maison, avec mes petits-enfants et avec mes copains à la chasse ou en épreuve de chasse.
Je vous souhaite de trouver votre Prunelle… pour ma part, j'ai contacté mon copain Alain Jetté.
Yvan Morissette.